(Click on a Photo to Enlarge)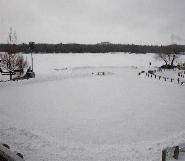 2007/2008 location is in the Lower Marina area.
Warm up room open and indoor washrooms adjacent to ice.
The location and size of the skating area has varied through the years.
Previous locations included inside the marina; south of the canoe club; and a circular route around Spruce Island, as well as near Wascana Place(2006/08).
There was no skating area during the 2005/2006 season.
The 2007/2008 season is the first time for the Lower Marina location. There is no "on lake" skating area.




(Unless otherwise indicated, photos by Don of www.WascanaPark.com)